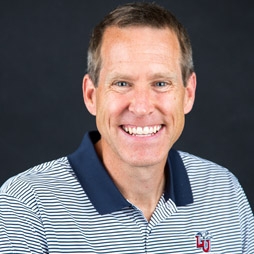 Head Coach
Lang Wedemeyer
Liberty University Director of Athletics Ian McCaw announced the hiring of Lang Wedemeyer as Liberty's new head women's soccer coach on Jan. 31, 2017. Wedemeyer is the eighth in the program's history.
Wedemeyer comes to Liberty following a highly successful 17-year run as the head women's soccer coach at South Dakota State. During his time at the helm of the Jackrabbits' program, Wedemeyer led South Dakota State to four Summit League championships and trips to the NCAA Women's Soccer Championship (2008, 2014, 2015 and 2016).
Wedemeyer has his U.S. Soccer "A" License, his NSCAA Premier diploma, an NSCAA Level 3 Goalkeeper diploma and a U.S. Youth Soccer National license. Throughout his coaching career, Wedemeyer has been around elite competition coaching against youth national teams in the Netherlands, Germany, Portugal, Spain and Belgium with ODP Regional teams.
During his 17 seasons at South Dakota State, Wedemeyer posted a 161-123-39 record, including 10 seasons with 10 or more victories. During the Jackrabbits' run of three-straight Summit League titles, South Dakota State has posed a 32-21-9 record the last three years.
"I am incredibly excited to be joining the Liberty family as the next head women's soccer coach," commented Wedemeyer. "The combination of Christian values, a competitive environment and a commitment to helping the student-athletes be their absolute best make Liberty a very special place."
"I have been blessed to have coached and worked with some extraordinary players and people in my time at South Dakota State. Now, I am equally blessed to have the opportunity to pour into the women soccer players at Liberty and help train Champions for Christ," continued Wedemeyer. "The spirit in the athletics department is incredible and I want thank Ian McCaw and Erin Hagen for this wonderful opportunity."
In addition to four postseason championships, Wedemeyer guided South Dakota State to Summit League regular season titles in 2008, 2009 and 2011. Additionally, his squad captured a United Soccer Conference championship in 2006 prior to South Dakota State joining the Summit League in 2007.
Wedemeyer helped start the South Dakota State program in 2000 and guided the program through its transition to Division I in 2004. He has been honored for his coaching success, earning Summit League Coach of the Year honors in 2013 and 2014.
Additionally, he was named North Central Conference Coach of the Year in 2001 and South Dakota Sportswriters Women's College Coach of the Year in 2008.
Wedemeyer has coached three Summit League Offensive Players of the Year and two Defensive Players of the Year. He also helped develop the skills of the 2012 Summit League Freshman of the Year.
Under his tutelage, 61 of Wedemeyer's players have earned all-conference honors, including 27 first-team selections, 18 second-team honorees and 16 newcomers/freshman team members.
Wedemeyer's teams have also had success in the classroom with his squads receiving the NSCAA Team Academic Award nine times (2006-07, 2009-14, 2016). Two of his former players have earned CoSIDA Academic All-America honors, while 10 players have earned CoSIDA All-District accolades.
In addition to his 17 years of service at South Dakota State, Wedemeyer has worked with the National Soccer Coaches Association of America (NSCAA) as a national staff coach, conducting coaching certification and running clinics over the past 20 years.
Wedemeyer, a native of Roanoke, Va., began his collegiate playing career at Virginia Tech where he was voted the Hokies top defensive player in 1991 and 1992. He finished out his career at Old Dominion where he served as a team captain and was a 1994 CoSIDA Academic All-America second-team honoree.
Wedemeyer is married to his wife, Tabitha. They have four children in Brooks, Isabella, Caroline and Hunter.